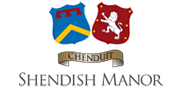 Where Victorian splendour meets modern design
Book a room
We're a truly special place to host wedding receptions in Hertfordshire
Your wedding reception is supposed to be a once-in-a-lifetime event, so you shouldn't rush your decision on where to hold it. Certainly, when it is venues in Hertfordshire that you are comparing, you will be spoilt for choice – so why is Shendish Manor such a fine place to celebrate your union?
Here are just a few of the many answers to that question.
We make things easy for your guests
Not only is our venue straightforward to reach for those based far afield from Apsley or wider Hertfordshire – we are a mere 30-minute train ride away from central London, for instance – but we also offer your guests special bedroom rates.
Meanwhile, our wedding suites are wonderfully spacious – particularly the Apsley Suite, which is suitable for up to approximately 320 guests.
Our suites are teeming with atmosphere
If it's our Apsley Suite that you choose for your Hertfordshire wedding reception, your guests are sure to be wowed by this air-conditioned space's elegant decor and sparkling chandeliers.
For the utmost in historic charm, however, you can't do better than our Manor House, which was built in the mid-19th century and is a formidable backdrop on which to tie the knot. Think high ornate ceilings, oak panelling, a sweeping staircase and Jacobean fireplace among the host of appealing original features.
A team is on hand to ensure everything goes just swell
One of the most underrated ingredients of our wedding receptions in Hertfordshire has to be our knowledgeable team of Wedding Co-ordinators, who will assist you with the planning of your wedding before handing over to an experienced manager on the day itself.
We're committed to ensuring that when you reflect on your wedding with us in the years to come, your memories will be purely warm ones. After all, you truly deserve to experience the happiest day of your life at our resplendent venue.
Why not enquire today?
From our exquisite Victorian architecture and picturesque grounds to our complimentary parking and the option to hire our Apsley Suite without any of our other services such as catering, there's just so much that we can offer you when you choose us for your wedding reception.
To find out more about all of the things that we do to make wedding receptions in Hertfordshire utterly special – and what we can do for yours – don't hesitate to call us on +44 (0) 1442 232220.
Special Offers
Find out about our money-saving offers
Wedding Venue
Discover our stunning wedding venue
Special Events
Find out about our latest events