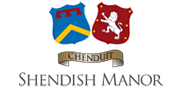 Where Victorian splendour meets modern design
Book a room
What are the exquisite dining opportunities available at Shendish Manor?
We may be known here at Shendish Manor as one of the leading wedding venues and golf country clubs in Hertfordshire, but we wouldn't enjoy such a reputation if we didn't provide our guests with world-class dining options to match.
If you're planning on booking a stay with us, whatever the length of time or reason for staying, we thought we would take a closer look at our delectable array of dining options – we don't want you going hungry, after all.
Mouth-watering meals fit for all requirements
Our Orangery Restaurant offers a formal, yet relaxed setting that welcomes guests of all kinds. Food is served throughout the day, covering everything from hearty breakfasts that will fuel your day's activities, right through to light lunches and a satisfying three-course dinner with all of the trimmings.
If you've settled into one of our 70 luxurious, spacious bedrooms and aren't in the mood to leave for something to eat – and we can't say we blame you – we also offer 24 hour room service. Should you choose to dine in the restaurant, you'll be offered unbeatable views of the acres of lush, picturesque countryside surrounding the hotel.
Need more privacy? We can assist
For large and small special events alike, Shendish Manor has a choice of stunning banqueting suites, each with its own unique style and character. Our menu offers even more choice when you are hosting an event – everything from cocktails and barbeques to a fully-formed banquet can be requested, all made by our Executive Chef and his trusty team.
Have you yet discovered our much-loved afternoon tea?
You don't even need to be celebrating a special occasion – our afternoon tea is perfect for indulging with a group of friends. With a selection of sandwiches, scones, cakes, tea, coffee and alcoholic drinks to choose from, we believe there's something to suit everyone's tastes.
Remember, too, that if you choose to dine with us, our kitchen staff are dedicated to doing their utmost to fulfil all dietary requirements, whether you need meat-free meals or have certain allergies or intolerances.
Please feel free to contact us with any questions about dining arrangements before and during your stay, to keep any rumbling stomachs at bay.
Special Offers
Find out about our money-saving offers
Wedding Venue
Discover our stunning wedding venue
Special Events
Find out about our latest events