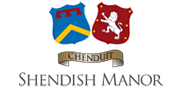 Where Victorian splendour meets modern design
Book a room
What are the latest special offers at Shendish Manor Hotel & Golf Course?
Everyone likes a competitive deal. Here at Shendish Manor, we have plenty of them on offer for our guests – regardless of our standing as one of the most envied wedding venues in Hertfordshire and a professional-standard golf country club.
We've decided to compile some of our most popular special offers into one handy blog post, beginning with...
Gift vouchers
You can't go wrong with a good gift voucher. We currently offer vouchers for an overnight stay with breakfast, dinner in our stunning Orangery Restaurant, 18 holes of golf or traditional afternoon tea.
All differ in value, but each and every one promises a gift that the receiver will never forget.
The ideal getaway for golf lovers
Alongside our standard dinner, bed and breakfast deals, we also offer a selection of golfing breaks.
Breaks range from Sunday Night Dinner, bed, breakfast and 36 holes, to 2 Nights Dinner, bed, breakfast and 54 holes, with prices varying.
Feel free to contact our reservations team for more information regarding our golfing breaks.
Proms and graduations
Shendish Manor is also a popular choice for schools, colleges and universities to celebrate proms and graduations.
For a highly competitive price per person, you can gain exclusive access to our Apsley Suite, pre-dinner drinks in our private walled garden, a delicious two-course meal and a night of celebration with our experienced DJ.
Available for booking from Monday to Thursday, a prom or graduation with us will not be forgotten.
Snow centre package
The Snow Centre is situated just 10 minutes away from Shendish Manor, and offers skiing and snowboarding lessons and sessions to people of all ages and abilities.
We've teamed up with the Snow Centre team to offer a choice of skiing and snowboarding breaks, all of which come with a three course dinner, overnight stay and breakfast with us included.
With the many advantages of staying with us ranging from our 70 well-appointed and spacious rooms to formidable nearby road and rail links, you won't necessarily need a special offer to be convinced to book with us - but it could certainly help to 'sweeten the deal'!
Feel free to contact the Shendish Manor team to find out more about any of the offers or deals listed above, or to learn about any of the other aspects of staying with us.
Special Offers
Find out about our money-saving offers
Wedding Venue
Discover our stunning wedding venue
Special Events
Find out about our latest events