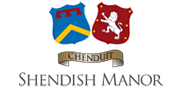 Where Victorian splendour meets modern design
Book a room
What are the standout features of the best wedding venues in Hertfordshire?
It's easy enough to imagine that simply securing the use of any Hertfordshire wedding venue would go a long way to making your special day an idyllic one. After all, you'll be in Hertfordshire, and therefore surrounded by all of the lush greenery, intriguing history and friendly people that this delightful county is synonymous with.

However, even in this ever-enchanting corner of England, it's still vital to ensure you have chosen a venue that actually caters to all of your specific needs, so that you can be assured of your big day being a memorable one for all of the right, rather than wrong reasons.
Here, then, are a few of the characteristics that mark out the finest wedding venues in Hertfordshire, and which you are therefore advised to look out for.
Jaw-dropping visuals
Given that the photography and video footage produced from your wedding day will be instrumental in enabling you to relive the memories for many years and even decades to come, you'll naturally wish to select a wedding venue that captures your heart as far as the aesthetic side of things is concerned.
You really can't beat a historic country house hotel when it's stellar visuals that you're seeking in wedding venues in Hertfordshire, and Shendish Manor is one of the best of all. Its combination of splendid Victorian architecture, a complement of gorgeous suites and 160 acres of surrounding picturesque parkland and formal gardens represents the very best of this wonderful county.
Someone who will help to make it all possible
Yes, you may have family and friends already helping you and your partner to plan your wedding. It really helps, though, to have someone working on the organisation of your nuptials that is used to doing this day in, day out – someone like the experienced wedding coordinator that we will assign to you when you book us as your venue.
The perfect location
As fantastic as a pretty backdrop for your wedding photos is, even that may be of somewhat limited value if the most treasured people in your life are unable to easily reach the venue to share the magic of your special day with you.
It's just as well, then, that Shendish Manor is a mere 30-minute train ride away from central London, while guests coming from Watford or Hemel Hempstead can drive to us in less than 10 minutes.
Don't forget that we are also now offering our Wedding in One Package for 2019 that could enable you to enjoy an amazing wedding with us for just £5,950, based on 60 guests. It's the perfect demonstration of how the best wedding venues in Hertfordshire can also be surprisingly affordable.
Special Offers
Find out about our money-saving offers
Wedding Venue
Discover our stunning wedding venue
Special Events
Find out about our latest events