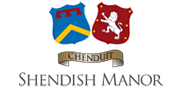 Where Victorian splendour meets modern design
Book a room
What can you expect from the very best exclusive-use wedding venues?
Blog Post 28/01/2020
Weddings can, of course, be simple and down-to-earth affairs. However, they can also be lavish – and if it's the latter that you are aiming for with your own nuptials, you may be wondering just how luxurious and extravagant your special day could be.
Well, here at Shendish Manor, we know a thing or two about the heights of wedding opulence, given that we also just happen to be one of Hertfordshire's most renowned wedding venues available for hire on an exclusive-use basis.
So, if you do decide to take advantage of any of the many exclusive stunning wedding venues out there – which allow you to practically treat the property as if it was your very own – what ought to be included in the all-round package?
Your chosen venue should capture your heart – and your head
As even a relatively casual visitor to our 19th-century manor house hotel could attest, Shendish Manor exudes all of the charm you would expect from the most desirable South East England wedding venues.
With the splendour of Shendish Manor's Victorian architectural detailing being lent still further grace by 160 acres of surrounding parkland and formal gardens – to say nothing of our utterly enchanting and expertly appointed suites – this is a venue that routinely steals hearts.
All too many other exclusive stunning wedding venues, however, fail to appreciate the importance of catering to the wealth of couples' more mundane, practical requirements if they are to keep the magic flowing through every minute of each wedding day.
This is why, whichever exclusive-use wedding venue you do eventually pick, we would strongly advise you to seek one with a package that covers all of the bases.
In the case of our renowned 'Exclusively Yours' package, for instance, that means every last detail, ranging from a red carpet arrival and the availability of both indoor and outdoor civil ceremony space, right through to a traditional evening buffet, honeymoon suite for the night of the wedding, and private breakfast area the next morning.
But there's one more very important touch...
...and that's the human one. We're delighted here at Shendish Manor to be able to bring those purchasing our 'Exclusively Yours' package, the full benefits of our skilled and seasoned team, including a dedicated wedding coordinator and event manager to plan and run their big day.
When you consider that the price of our package also includes beautiful floral arrangements of your choice and design from our recommended florist, and that we give you the option, too, to use your own catering for the wedding breakfast... well, you may conclude that you need not look to any alternative exclusive stunning wedding venues.
Why not, then, download our comprehensive 'Exclusively Yours' brochure today, so that you can learn more about what truly makes up the complete exclusive-use wedding venue in Hertfordshire?
Then, once you have decided on your specific requirements, we would be delighted to receive your enquiry, so that we can begin planning a special day that you and your beloved will fondly remember forever.
Special Offers
Find out about our money-saving offers
Wedding Venue
Discover our stunning wedding venue
Special Events
Find out about our latest events