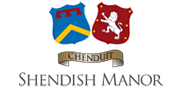 Where Victorian splendour meets modern design
Book a room
What could be more romantic than a February stay at Shendish Manor?
There are many ways to celebrate Valentine's Day. You could spend the whole of 14th February indoors with your beloved, watching the TV while nibbling on treats... or you could go out together for a romantic dinner or attend a Valentine's-themed event. Alternatively, you could combine all of these things and more into one astonishing break in the idyllic, green surroundings of a splendid Victorian property in West Hertfordshire.

We are - of course - referring to the opportunity offered by ourselves here at Shendish Manor. You may already be familiar with us as one of the finest wedding venues in Apsley, and indeed, you might have even tied the knot with us. Alternatively, you may have never ventured to this corner of one of England's prettiest and also surprisingly well-connected counties.
Whatever the situation, when it's romance, romance and more romance that you seek in your choice of hotel, you really couldn't hope to make a better choice than Shendish Manor.
We're about so much more than weddings
We can't deny that we have long provided quite the spectacular setting for an exceedingly wide range of weddings and civil partnerships, helping to make lifelong dreams come true.
Those who hold their nuptials with us do so on account of such alluring features as our venue's breathtaking architecture, beautiful gazebo and well-prepared team of Wedding Co-ordinators who help to ensure that every aspect of the big day progresses without a hitch - except for the getting hitched.
However, our weddings are far from the only aspect of Shendish Manor that spells out 'romance'. We do, after all, also host wonderfully fine dining in our Orangery restaurant, and we are in close proximity to enchanting attractions such as the 17th century Hatfield House and the Norman Berkhamsted Castle.

Why not spend Valentine's Day with us?
However, the ultimate reason to visit Shendish Manor this 14th February may well be our Valentine's at Shendish Manor event. It takes place thrice over the month - on the 11th, 14th and 18th - and those reserving a place have two other options: to simply enjoy a glass of Champagne and three-course dinner, or combine the aforementioned two with an overnight stay in one of our 70 spacious and luxurious bedrooms.
Why not book today by calling 01442 232 220, to ensure that you and your special someone's Valentine's Day 2017 is more than well-spent?
Special Offers
Find out about our money-saving offers
Wedding Venue
Discover our stunning wedding venue
Special Events
Find out about our latest events