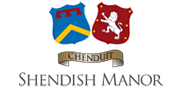 Where Victorian splendour meets modern design
Book a room
What does Hertfordshire have to offer to those interested in getting married?
If you have been perusing your options for places to tie the knot this year, it might not have escaped your notice that there is an especially strong concentration of wedding venues in Hertfordshire. But what makes this county such a hotspot for weddings, and what might that mean for your own choice of venue?
You'll struggle to find a greener and prettier county
One obvious reason to opt for Hertfordshire as a place to get married is its richly verdant scenery that lends itself so beautifully to photography opportunities. We certainly have no shortage of such picturesque landscape to share with you here at Shendish Manor, which is a splendid Victorian property set in 160 acres of parkland and formal gardens.
There's history everywhere you look
Let's face it: while there are plenty of fine modern wedding venues in Hertfordshire, for many of us, the dream is to be able to enjoy our big day on a traditional and historic backdrop. Luckily, this is one county that is blessed with resplendent and prestigious period properties, with few of them as impressive – from the inside or the outside – as Shendish Manor.
Strong transport connections
Yes, we realise it's not exactly the most glamorous aspect of choosing a wedding venue, but it's nonetheless crucial to hold your wedding at a location that all of your prospective guests can easily reach. Hertfordshire's proximity to London – including its major airport, road and rail connections – is certainly invaluable here, and Shendish Manor itself is just 30 minutes away from the centre of the capital by train.
Expertise to ensure the day goes perfectly
One of the other big advantages of choosing to get married somewhere that sees a large number of weddings – such as Hertfordshire – is the easy availability of people who are highly skilled and experienced in helping couples to organise their nuptials. Here at Shendish Manor, we have our own knowledgeable Wedding Co-ordinators who are ready to guide and assist you with your planning, while a dedicated manager will also be present on site on the day to guard against any hiccups.
We could continue mentioning so many more of the excellent reasons to compare wedding venues in Hertfordshire, but in truth, the heart wants what the heart wants – and we're confident that you will be simply captivated by what our own county has to offer.
Nor could it be easier to enquire about Shendish Manor as the place to hold your nuptials. Simply call our team today, on +44(0)1442 232220, to find out more about our highly rated packages.
Special Offers
Find out about our money-saving offers
Wedding Venue
Discover our stunning wedding venue
Special Events
Find out about our latest events