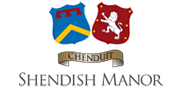 Where Victorian splendour meets modern design
Book a room
What makes Apsley such an interesting place to get married?
Most of us, if we were asked, would express a wish to tie a knot in a location that intrigues us. That's one reason why so many people are drawn to historic settings when they are seeking out wedding venues – and as one of the most popular wedding venues in Apsley here at Shendish Manor, we can confirm that the village is definitely an interesting place to formalise one's union.
So, why should you be especially intrigued by the thought of getting married here?
It's steeped in history
For such a seemingly unassuming location, Apsley has certainly played a key part in British history. It was here that, during the 19th-century Industrial Revolution, saw extensive paper making activity, thanks partly to the construction of what later became the Grand Union Canal, but also to a man known as John Dickinson, who purchased an existing mill in the locality in 1809.
Dickinson will always be known in history as the inventor of a new method of continuous papermaking, which was to be so successful that the last warehouse in the area bearing his name did not close until 1999, some 130 years after his death.
Today, the sole surviving member of a number of 19th-century paper mills in Apsley is Frogmore Mill, which now houses a museum.
Meanwhile, back in the mid-19th century, an impressive residence had been built on the Shendish Manor estate under the ownership of Dickinson's business partner Charles Longman. Having passed through the Longman family for the rest of the 19th century and into the early 20th century, the property was sold to John Dickinson Stationery in 1936.
That property is, of course, today's Shendish Manor
The same Victorian splendour enjoyed by generations of the Longman family – now better known for its publishing activities – remains evident at the present-day Shendish Manor, which has risen to become no less than one of the most esteemed wedding venues in Apsley.
The remarkable heritage of our surroundings is even alluded to in the name of one of our wedding suites – the Apsley Suite, which with its elegant decor and sparkling chandeliers, offers the perfect ambience for newlyweds and as many as 320 guests. However, another impressive space – the mid-19th century Manor House itself – is also available, and exudes undeniable historical charm.
So, there you have it – the humble mill village of Apsley is a rather more special place to get married than you might have ever thought. So, why hesitate to make Shendish Manor your first choice among the many other highly regarded wedding venues in Apsley?
Special Offers
Find out about our money-saving offers
Wedding Venue
Discover our stunning wedding venue
Special Events
Find out about our latest events