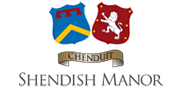 Where Victorian splendour meets modern design
Book a room
What makes weddings in Hertfordshire so special?
It would be easy to presume that Hertfordshire only really makes sense as a wedding-day destination because it's green and picturesque. But while these are undoubtedly fine reasons to contemplate tying the knot in the county, the evergreen popularity of weddings in Hertfordshire can also be explained by some of the below, less often publicised factors.
The strong local transport connections
You may not imagine that something as mundane as well-developed road and rail connections would make a big difference to how special a wedding feels. But of course, what truly matters is being able to have all of your closest friends and loved ones at your ceremony and reception, which will be much more likely if you choose a well-connected Hertfordshire venue like Shendish Manor.
A complement of delightful venues and suites
Hertfordshire isn't a county that is exactly short of enchanting and often historic landmarks, many of which can be booked as wedding venues. What's more, you often have a generous choice of suites and backdrops within such venues to ensure that you achieve just the right ambience on your big day – whether you are seeking an intimate or grand, historic or contemporary feel.
All of the know-how and experience you need is at hand
No one ever organised a dream wedding completely by themselves. There's simply too much work that needs to be done, which is why many people choose to hold their weddings in Hertfordshire partly on account of the in-depth expertise in wedding planning that already exists in the county. Our own knowledgeable Wedding Co-ordinators here at Shendish Manor are a great example of this.
Helpful extras can also be provided
Would you appreciate a wedding venue that offers complimentary parking – including coach space – as part of the package? What about the help of a dedicated manager on the day, or the option to hire the venue only, so that you're free to use your own choice of caterer? The fact that there are so many wedding venues in Hertfordshire maximises the likelihood of finding a venue that gives you all of these options and extras.
There are so many great special offers available
Another key advantage of choosing a part of the world where there is significant competition between wedding venues is the near-certainty at any one time that you'll find a wealth of special offers to choose from. Consider Shendish Manor, for instance, where our present 'Wedding in One' offer enables you to get married with us next year with change from £5,000 – or pay only £4,500 if you're interested in tying the knot on our site during 2018.
As you can see from the above, there's much more to weddings in Hertfordshire than stunning rural backdrops – as magical as these undoubtedly are. To learn more about how we could assist you in putting together a wedding in this fabulous county that you will only reflect upon fondly for many years to come, simply give us a call now on +44 (0)1442 232 220.
Special Offers
Find out about our money-saving offers
Wedding Venue
Discover our stunning wedding venue
Special Events
Find out about our latest events