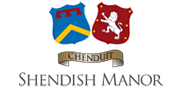 Where Victorian splendour meets modern design
Book a room
What should be contained in the ideal wedding package in Hertfordshire for 2019?
You might feel it's obvious what you desire and require in a wedding package if you are looking to tie the knot in such a beautiful county as Hertfordshire next year. Perhaps the image in your head is of a splendid historic property in gorgeous grounds, with you and your beloved in the centre of it all, saying your 'I dos'.
But of course, the fantasy is only one element of the task of selecting the perfect wedding package in Hertfordshire for you. That's because you'll also need to ensure whatever package you choose includes all of the sometimes mundane practical elements that you require, such as...
The most suitable suite
Yes, the suite in which your big celebration takes place should be one to make the jaw drop – and we think our own Apsley Suite and Longman Suite here at Shendish Manor more than fit the bill!
However, you'll also need to think about such aspects as the capacity of the suite that you choose compared to your guest list, the accessibility of the suite for the various attendees and whether the catering options available for the suite are the right ones for you, your husband-to-be or wife-to-be and your guests.
An inspiring and functional outdoor space
It might be that you simply yearn for a traditional historic venue with the sumptuous surrounding grounds that will make you feel like the lord of the manor as you have your wedding photos taken... or you may desire the complete outdoor catered nuptials that enable you and your sweetheart to say your vows in the open air.
Given the astounding natural beauty of this part of England, we think a lovely and versatile outdoor area should be an essential component of any wedding package in Hertfordshire you consider. It's certainly something that we offer here at Shendish Manor, in the form of 160 acres of parkland and formal gardens that you are welcome to explore at our upcoming open evening on Thursday 15th November.
The assistance of capable and experienced wedding co-ordinators and managers
Any wedding in Hertfordshire is a major and potentially intimidating event to organise, even if you have tied the knot previously.
That's why we really don't think you should book any wedding package in Hertfordshire that doesn't also include the services of wedding co-ordinators who can help to ensure you get your wedding planning just right, as well as an experienced manager to run things on the day.
Would you like to learn more about all of the features and perks we can incorporate into your wedding package in Hertfordshire when you make Shendish Manor your venue? Simply call our team now on +44(0)1442 232220 for more guidance as to how we can tailor your nuptials to your exact preferences and requirements – or check out all of the details of our 2019 Wedding-in-One offer.
Special Offers
Find out about our money-saving offers
Wedding Venue
Discover our stunning wedding venue
Special Events
Find out about our latest events