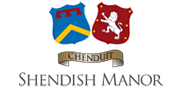 Where Victorian splendour meets modern design
Book a room
What to know before booking a golfing break with Shendish Manor
You don't have to be a golfing connoisseur to know that not all golfing holidays in Hertfordshire – and the golf clubs that they are centred around – are equal. Some may differ in the facilities that they offer or be less geared towards inexperienced golfers, while all-round standards of service can also greatly differ from one golf club to the next.
Regardless of your golfing experience or skill level, Shendish Manor offers high quality, accommodating and welcoming golfing holidays for our guests. However, we recommend that you quickly consider the following points before booking your stay.
A dress code is key to enjoying your golf
Like any self-respecting golf club, Shendish Manor operates under a dress code. At all times while on the premises of our club, you must look smart and presentable and respect that trainers, denim jeans, football shirts, tracksuits and collarless shirts – even golf shirts – are not permitted.
You must wear golf-appropriate long, tailored trousers or tailored Bermuda shorts. As for shoes, you are not permitted to wear training shoes, and must instead wear shoes designed specifically for the purpose of playing golf, with hard or soft spikes. Finally, you must remove your hat when entering the golf club.
This may seem to be a lot of information to remember for those unaccustomed to golfing dress codes, and may be repeated information for more experienced golfers, but it's essential that you remember and follow this code for an enjoyable, hassle-free stay with us.
Golfers of all skill levels can enjoy a game or two with Shendish Manor
We would hate to think that any guest of ours could possibly be discouraged from making use of our golfing green due to a lack of skill or experience. Shendish Manor encourages anyone to benefit from our professionally-designed course and club – we even have a PGA Professional on hand to offer one-on-one or group lessons, should you feel that you need some guidance.
The aforementioned points – plus our range of flexible memberships, buggy and trolley hire from our Coach House and our warm, welcoming Coach House bar – should be encouragement enough to indulge in a golfing holiday with us.
However, if you have any further queries about golfing breaks at Shendish Manor, please don't hesitate to contact a member of our friendly and professional team.
Special Offers
Find out about our money-saving offers
Wedding Venue
Discover our stunning wedding venue
Special Events
Find out about our latest events