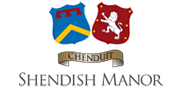 Where Victorian splendour meets modern design
Book a room
Where better to spend your summer 2020 than a charming country house hotel in Hertfordshire?
Let's face it; there are many things that a lot of us have missed over the last few months of lockdown. In your case, you might be yearning to hug a loved one, travel to the opposite end of the country, or enjoy your favourite golf course once more.
Alas, here at Shendish Manor, we can't answer your every wish in this regard – we certainly have no control over the rules governing contact with family members, for example.
Nonetheless, we're pleased to say that as the lockdown restrictions surrounding the coronavirus pandemic are gradually lifted, we've been able to open our own doors once more. That means the dream of a bit of escapism in the form of a stay in a country house hotel in Hertfordshire is within closer reach for you than you might think!
We're committed to keeping you happy, healthy and safe
Of course, if you're considering booking a room at a country house hotel in Hertfordshire like our own this summer or beyond, you probably won't want to spend much of your time thinking about the COVID-19 situation. But nor will you wish to put your health at risk as a guest.
We have therefore put in place the sensible measures necessary to make our hotel 'COVID-19 secure', including pre-arrival check-in and registration, in-room dining at no extra cost, and the use of social distancing markers on the floor to help you to leave a responsible gap from others.
Having made some significant changes to how we performed certain aspects of our daily tasks around the hotel even before we closed our doors several months ago, we were already well-placed to make further steps. You can read more about what we're now doing in relation to the ongoing management of the virus in this statement.
These safety measures have also made it possible to be ready to welcome our guests back to our Leisure Club with complete confidence on the 25th July when such facilities open up across the UK.
So, what can you look forward to when you join us?
Thankfully, a lot of things about Shendish Manor certainly haven't changed since we were last widely open to the public. They include the splendid historic fabric of our mid-Victorian property itself, as well as the charm and elegance of the surrounding 160 acres of parkland and formal gardens.
Meanwhile, our bedrooms – including 18 in the original Manor House, and the additional 52 in the modern wing – remain stylish and well-appointed, although you might notice that all non-essential items, including some decorative soft furnishings, have been removed to help to reduce risk.
Many of these rooms also offer amazing views across the nearby countryside that is such a key attraction for so many of those booking a room in a country house hotel in Hertfordshire right now.
And of course, we haven't even touched on the fact that our golf course is also open for bookings, as well as that we continue to be excellently located for those wishing to explore wider Hertfordshire and beyond. But if the latter's on your agenda, do check with any attractions or venues you have in mind before arranging a visit, to ensure they are open to the public.
Oh, and we've recently been updating our complement of special offers, too. Among them is our Start Enjoying Your Summer offer, which enables you to (belatedly) kick-start your summer in style, enjoying a stay in our distinguished hotel – along with a daily tipple, a discount on green fees for our golf course, and a full English or continental-style breakfast – from just £74.
Why wait any longer to get your summer started?
After these months of lockdown, our team here at Shendish Manor can't wait to welcome you back with a smile to our resplendent, well-equipped and conveniently located country house hotel in Hertfordshire.
Simply book online now using our straightforward tool, or get in touch with us directly for answers to any queries you may have before reserving a hotel room in one of England's most picturesque and inspiring counties.
Special Offers
Find out about our money-saving offers
Wedding Venue
Discover our stunning wedding venue
Special Events
Find out about our latest events