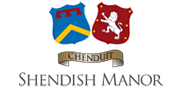 Where Victorian splendour meets modern design
Book a room
Why come to Shendish Manor over the Christmas holidays?
Staying at Shendish Manor over the Yuletide season will enable you to explore the Hertfordshire area and its festivities. You can enjoy Christmas fayres, see the charming St. Albans Clock Tower and street market or witness the sets of Harry Potter.

Don't mill around the house this Christmas! Do something exciting for you and your family and take advantage of our Christmas hotel deals before we fill up.
Magical Christmas fun throughout Hertfordshire
Where better could there be to visit in Hertfordshire than picturesque St Albans, which is just a short drive away from Shendish Manor? The city holds several festive fayres that are fun for all of the family. When the historic splendour of the city is also considered, you'll feel like you've travelled back in time.
You can also take a trip on the Warner Bros. Studio Tour to visit authentic movie sets for the Harry Potter films. Grab tickets for Hogwarts in the Snow, and you will be able to see the sets draped in a blanket of snow, bringing out the true magic of Harry Potter.

Great banqueting plus amazing golf facilities
Don't worry about missing out on Christmas dinner. Shendish Manor has a broad range of succulent banquets and some exquisite three-course meals to cover Christmas Eve, Christmas Day and Boxing Day.

If you are firmly of the belief that Christmas isn't Christmas without a turkey, rest assured that we will have a delightful roast turkey dinner available with all of the traditional trimmings.
It may be cold outside, but that won't stop seasoned golfers and enthusiasts from clambering to our green. Shendish Manor has a fantastic golf course for members and guests to enjoy throughout the Christmas season. Just be quick to guarantee your place on the green!

Book your room to experience the finest of Hertfordshire at Christmas
We'll give you a direct line to everything that Hertfordshire has to offer over the holiday season, plus give our guests the chance to get a few rounds of golf in before Christmas dinner.

Not only can we provide huge bedrooms with plush beds to let you take the weight off your feet, but we also keep our golfing facilities available to all of our guests over the festive period.
For a comfy stay away from home, come to Shendish Manor for golfing, luxurious comfort and meals and banquets so delicious that you'll never want to leave. Contact us today to book your place over the holidays.

Special Offers
Find out about our money-saving offers
Wedding Venue
Discover our stunning wedding venue
Special Events
Find out about our latest events