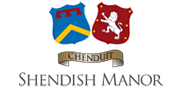 Where Victorian splendour meets modern design
Book a room
Why it isn't too early to start considering hotels for Christmas
The festive season might currently seem far away, but time passes quickly – as many of us will be able to attest! It doesn't feel very long since we were welcoming 2018, which helps to explain why you could benefit from planning ahead with your festive activities.
Christmas is a fitting time to celebrate traditional staples of life like friendships, great food and, of course, opening presents. It's especially easy to enjoy the Christmas spirit at a traditional venue, too – so why not consider our Victorian abode, Shendish Manor, among fitting hotels for Christmas?
Good reasons to book now – yes, now
We can all probably vouch for how amazingly hectic the Christmas period can be. We've got presents to open, friends and family to meet up with and food to tuck into. However, you can eagerly anticipate doing all three here at Shendish Manor in Hertfordshire.
Just imagine, with many loved ones in tow, making your way through the 160-acre parkland that surrounds our country house hotel, and which will hopefully be snow-coated this Christmas. Our venue includes immaculate banqueting facilities for a particularly exuberant Christmas dinner.
There are plenty of stunning bedrooms here to go round, too; 70 of them, to be exact. However, given the many merits of choosing us above various other hotels for a Christmas stay, you probably shouldn't hesitate to book now. Otherwise, those rooms could be quickly snapped up.
Why save us for Christmas? Enjoy our venue all year round
While Shendish Manor has much to recommend it as a Christmas hotel, you shouldn't let its many attractions go to waste before the children are writing their Christmas lists. Our Orangery restaurant and golf course, for example, are waiting to be enjoyed at any time of year.
You might have many other celebrations lined up for between now and Christmas; think birthdays, anniversaries, christenings and baby showers. Our venue can prove just right for all of them. By calling +44(0)1442 232220 to book your own stay at Shendish Manor, you can afford yourself a 'preview' of our facilities well before you finalise any choices of hotels for Christmas.
Special Offers
Find out about our money-saving offers
Wedding Venue
Discover our stunning wedding venue
Special Events
Find out about our latest events