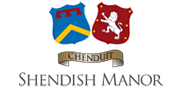 Where Victorian splendour meets modern design
Book a room
Why should you get married in Apsley?
The unassuming suburb of Hemel Hempstead known as Apsley may not seem the most likely wedding location to casual observers, but it certainly has no shortage of hidden charms – not least as the home of Shendish Manor, which is one of Hertfordshire's most impressive country houses.
Our venue has a compelling past and present
Here at Shendish Manor, we can look back on a long history that has seen our site used for many purposes. From the mid-19th century, for example, it was in the ownership of the Longman family of publishers, prior to its becoming a British Army camp during World War I.
Later in the 20th century, Shendish Manor came to be used as a sports and social club, before its conversion into a hotel and conference centre in the 1990s. Today, we set the benchmark among wedding venues in Apsley with our stunning rooms and grounds – but for what other reasons may you be interested in getting married here?
There's more in Apsley than meets the eye
Apsley is certainly a historically fascinating settlement. In the 19th century, it was a mill village playing a key role in Britain's rise during the Industrial Revolution. That was thanks in no small part to a man called John Dickinson, the inventor of a continuous mechanised papermaking process who bought an existing mill in the Apsley area in 1809.
Dickinson's business saw considerable expansion during the 19th century, with production peaking during World War II. The subsequent decline in papermaking in the town saw the closure of the last John Dickinson warehouse in 1999, although another mill – Frogmore Paper Mill – still survives as a working paper mill, producing about 100 tonnes of specialist grade paper a year.
Today, Apsley remains home to various other landmarks signalling its rich past, including the late-19th century St Mary's Church, which was built to inspire the workers of the paper mill that was once based nearby; a supermarket now occupies the site.
Enquire now about making Shendish Manor your wedding venue
Whether you live in or near Apsley or have other reasons to take an interest in wedding venues in Apsley, there's no need to look any further when you can choose the very best – Shendish Manor. Contact us now with the basic details of your wedding and its intended date, and we will soon get back to you about how we can ensure your special day is firmly one to remember.
Special Offers
Find out about our money-saving offers
Wedding Venue
Discover our stunning wedding venue
Special Events
Find out about our latest events