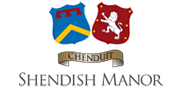 Where Victorian splendour meets modern design
Book a room
Winter's on the way, so warm up with one of our special Christmas offers
As reluctant as we are to say it if you are still enjoying the warm weather and long days of the summer, the last few months of 2016 are upon us. Soon, many of us will be preparing for Christmas, purchasing presents, booking restaurants and arranging hotel stays.
As you might imagine, we are great lovers of the festive season here at Shendish Manor, so to help ensure that your own next Christmas is one of your most memorable yet, why not take advantage of one of our Yuletide special offers?
Go on, treat yourself!
Here at Shendish Manor, we certainly do not restrict our Christmas celebrations to 25th December. As a matter of fact, we kick things off right from the first day of the month, with a festive dinner in our world-class Orangery restaurant, featuring a delicious three-course menu with all of the trimmings.
Then, a week before Christmas, we hold our festive Sunday lunch that provides the perfect atmosphere to socialise with friends and family before the big day – with coffee, mints and Christmas crackers galore.
As for the day itself, our Christmas Day luncheon is the perfect way to indulge. You'll enjoy a satisfying three-course dinner, all topped off with a glass of champagne, coffee and mints, as well as – of course – gifts for all children in attendance.
A month of festivities
Who's to say that the celebrations end there, though? Boxing Day sees us host yet another delectable three-course lunch, finished off with coffee and mince pies. We also hold a wealth of Christmas celebration nights, featuring dining, drinking and plenty of dancing.
Meanwhile, to help you start 2017 as you mean to go on, our New Year's Eve gala dinner offers the utmost in indulgence, featuring a canapé reception, four-course meal and our resident DJ spinning the best music well into the night.
If, however, you're after a more laidback celebration, our Manor House hosts an equally delicious two-course meal, with a DJ helping to ensure that you get suitably 'danced out' prior to retiring to one of our rooms.
Menus and more information regarding overnight stays at Shendish Manor over late 2016 and early 2017 are available when you contact one of our team – we certainly hope to see you soon for one of our exciting and suitably festive Christmas events in Hertfordshire!
Special Offers
Find out about our money-saving offers
Wedding Venue
Discover our stunning wedding venue
Special Events
Find out about our latest events