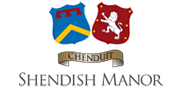 Where Victorian splendour meets modern design
Book a room
Yes, you can treat our splendid country house as if it was your very own!
Blog Post 10/01/2020
Well, sort of! You see, this New Year here at Shendish Manor, we're offering a very special opportunity to couples; the chance to not only hold their nuptials at our magnificent country house in Hertfordshire, but also enjoy the exclusive use of the property throughout their big day.
If all of that sounds like a dream to you, you'll be delighted to learn that exclusive use weddings can now be booked with us for dates starting from January 2020.
What makes our 'Exclusively Yours' package so special?
Readers of this blog post who have ever visited, stayed at or even got married at Shendish Manor will know all about the qualities that make our heritage property so remarkable and enchanting.
The historic fabric of the present-day Shendish Manor dates to the mid-19th century, when Charles Longman – of the famous publishing family – took ownership of the house and commissioned architect John Griffith to create the manor house that couples continue to fall in love with today.
But of course, it is not just our property itself, or even specifically the 68 luxurious bedrooms that those investing in our 'Exclusively Yours' package can take advantage of, that helps to make exclusive use weddings at Shendish Manor so special.
That's because you can also make the most of all manner of other perks if you do elect to formalise your union with us on this basis – ranging from red-carpet arrival right through to a traditional evening buffet, private breakfast the next morning, and the use of a plasma TV in the reception for photos or messages.
And don't forget that we'll help you every step of the way
Another very big reason to choose Shendish Manor over other venues offering opportunities for exclusive use weddings, is the presence of a dedicated wedding coordinator and event manager, who – together – will be instrumental in getting every detail of your special day just right.
After all, if there's any reason above all else for the burgeoning popularity of exclusive use weddings among couples, it's the chance that this gives them to enjoy the utmost freedom and control – and here at Shendish Manor, we have the capable and experienced professionals who will work steadfastly to make it all possible for you and your beloved.
Simply click through now to download your brochure in relation to 'Exclusively Yours' weddings here at Shendish Manor, before getting in touch with our team to find out more about why this really is the way to tie the knot in Hertfordshire in 2020!
Special Offers
Find out about our money-saving offers
Wedding Venue
Discover our stunning wedding venue
Special Events
Find out about our latest events