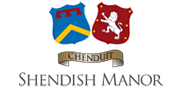 Where Victorian splendour meets modern design
Book a room
You can savour much more than wonderful cuisine at our New Year's Eve Gala Dinner
With so much rushing around to do to purchase Christmas presents, arrange get-togethers with family and friends and even attend the obligatory work or office party, it's understandable that you may almost allow any thoughts of New Year's Eve to pass you by.

The final night of the year, though, is always a very important one. It's the time when you'll probably be reflecting on how 2018 turned out for you, and contemplating the steps that you need to take in your life over the year ahead.
So, why not do it in some of the most delightfully opulent surroundings imaginable, by joining us for our sumptuous New Year's Eve Gala Dinner right here at Shendish Manor?
Just how special will this year's Gala Dinner be?
Shendish Manor will always be one of the most in-demand places to dine in Hertfordshire during the festive and New Year period each year, not least on account of the Victorian splendour that characterises both the inside and outside of our property. 160 acres of surrounding parkland and formal gardens complete the idyllic, costume-drama ambience of our hotel.
Indeed, many people who join us for our New Year's Eve Gala Dinner each year decide that they like our sought-after country house so much, they'd quite like to stay overnight. Sure enough, residential packages are available for this magnificent event, priced at £170 per person, compared to £98 for each non-resident.
But let's not overlook the main reason you'll probably book a place on our New Year's Eve Gala Dinner; the cuisine itself. We will be serving canapés on arrival for you, and then moving onto a satisfying starter, a delicious main dish and finally, a dessert that you'll remember in all of the finest ways for a long time to come. It's all rounded off with coffee and petit fours, and finally a glass of Champagne at midnight.
Along the way, a talented vocalist will serenade you as you dine, and our resident DJ will conclude the evening by playing a number of hits late into the night. Oh, and don't forget the black-tie dress code – this will be an extremely special and prestigious occasion, after all.
You'll find all of the information you need in our Christmas brochure
December may be well underway, but it's not too late for you to get involved with many of our winter-season events! You can inform yourself on our complete set of events coming up over the next few weeks by downloading our handy Christmas and New Year brochure, before calling or emailing us – via 01442 232220 or events@shendish-manor.com – to secure your place on any of them. In the process, you'll ensure that you say goodbye to 2018 and see in 2019 in style.
Special Offers
Find out about our money-saving offers
Wedding Venue
Discover our stunning wedding venue
Special Events
Find out about our latest events