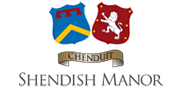 Where Victorian splendour meets modern design
Book a room
You won't regret making a date for our Christmas Day Lunch in Hertfordshire
The wonderfully green county of Hertfordshire in southern England makes for a magical place to explore at any time of year, but of all of the times of year to actually stay overnight here, Christmas Day may be the best. We can't guarantee a white Christmas here at Shendish Manor, but what we can guarantee is the considerable joy that has always been associated with our annual Yuletide events.
Yes, we have just published our Christmas brochure for 2017, and this year's calendar of lunches, afternoon teas and parties is as packed as ever. What we wish to talk to you about in today's blog post, however, is what promises to be the finest Christmas Day Lunch in Hertfordshire this season.
What will make this year's Christmas Day Luncheon so special?
We really have considered every detail this season in devising a Christmas Day Luncheon that you, your family and your friends will remember for many years to come, for all of the right reasons.
Central to the occasion will, of course, be the delightful cuisine that will be carefully and attentively prepared and served by our dedicated team of chefs. Following the glass of Champagne that you will be served on arrival, you will be able to take your pick from a menu including – for starters – the likes of cream of butterbean soup, smoked salmon and brown shrimp roulade.
Options for your mains, meanwhile, will encompass roasted Norfolk turkey breast, oven baked lamb rump, baked tomato galette and pan fried seabass fillet. As for your dessert... well, how does a traditional Christmas pudding, tangy lemon tart, chocolate truffle torte or a selection of British cheeses sound? There are also, naturally, the obligatory coffee and mince pies.
It all adds up to make a Christmas Day Lunch in Hertfordshire that we are extremely excited about. Plus, with Santa dropping by the night before to drop off gifts for the children, it's an occasion that represents astounding value at £89 for adults and £45 for children aged between three and 12.
Discover our complete assortment of Christmas events today
As you will soon see when you download our Christmas brochure, our Christmas Day Luncheon is just one small part of the hectic events calendar that we've got lined up for this season here at Shendish Manor.
So have a look, take your pick from the host of activities we have arranged for right through Christmas and the New Year, and get in touch with us to secure places for you, your family and your friends before we're fully booked for another year!

Special Offers
Find out about our money-saving offers
Wedding Venue
Discover our stunning wedding venue
Special Events
Find out about our latest events