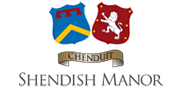 Where Victorian splendour meets modern design
Book a room
Your charity event attendees will adore Shendish Manor
Here at Shendish Manor, we've long known a thing or two about hosting special events. Since our historic property became a hotel and conference centre in the mid-1990s, we've steadily grown a stellar reputation across Hertfordshire for organising and holding wedding receptions, hen parties, graduation and prom celebrations, baby showers and other, similar events.
If there is an explanation as to why we have achieved consistent success and acclaim across all of those categories of event, it is because our team is supremely adaptable and experienced in overseeing such events and helping to ensure they run like clockwork.
It's a similar situation when people approach us searching for charity venue hire in the UK. But your event isn't just about your own convenience – it's also about your guests, and below are just some reasons why people love to come to charity events held under our roof.
We provide the perfect backdrop
Yes, when you are holding a charity event, you won't want your chosen venue to overshadow the very important work that your charity does. However, you will also desire a venue that reflects well on you and your charity.
This is what you can expect when you choose Shendish Manor, thanks to our gorgeous and well-equipped suites, pleasant surrounding countryside and the all-round Victorian splendour of our building that has enjoyed such a distinctive history under a succession of owners.
It's easy to reach us
As mundane a factor as it may seem to discuss, the fact remains that your charity event attendees will appreciate a venue that is not so awkwardly located that they spend hours stuck in traffic both on the way there and while they are travelling back home.
Despite the 160 acres of parkland and formal gardens surrounding Shendish Manor, we are by no means in the middle of nowhere. You can get here from Central London in about 30 minutes by train, and if you have any guests living in Watford or Hemel Hempstead, they'll have an even more relaxing journey, as we are a less than 10-minute drive away from both towns.
Every other conceivable perk is available to visitors
Are you trying to decide between charity event venues that are known for their fine dining, or perhaps for having a great golf course that guests can try out, or even comfortable hotel rooms should they wish to stay overnight after the event is over?
When you choose Shendish Manor for your next charity event, you don't need to compromise. We can offer all of the above and more, making us truly one of the best all-round options for charity venue hire in the UK.
Get in touch with our receptive and accommodating team now, and you can learn more about our hire prices and why we really are so adored by those both organising and attending all manner of special events from far afield.
Special Offers
Find out about our money-saving offers
Wedding Venue
Discover our stunning wedding venue
Special Events
Find out about our latest events