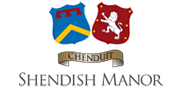 Where Victorian splendour meets modern design
Book a room
Golf Open Day
Shendish Manor Golf Club Open Day Sunday 17th June 2018
Tee times available between 11am – 3pm
Please call in advance and we will book you in for a trial of our fantastic 18 hole Golf Course!
We also have a number of different Membership Categories available which we can discuss with you on the day after you have played.
For further information please call 01442 251806 or email golfmembership@shendish-manor.com Please bring this invite with you.
Special Offers
Find out about our money-saving offers
Wedding Venue
Discover our stunning wedding venue
Special Events
Find out about our latest events