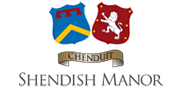 Where Victorian splendour meets modern design
Book a room
Murder Mystery Nights for 2020
Join us at Shendish Manor Hotel for an Evening of Murder!
We're hosting murder mystery experts The Killing Game for a murder mystery dinner on Saturday 3rd October 2020.
Enjoy a three course meal with coffee while you try to work out the characters' secrets and see through their lies. After the murder takes place, you will then have the chance to question the suspects before putting forward your theory about who did it – there are prizes for the winners.
Prices are £65 per person for the murder mystery dinner or £137.50 per person for a one-night stay (based on two people sharing a double or twin room). Single room supplements apply.
The Killing Game are a leading provider of high quality, interactive murder mystery evenings and weekends. For more information or to book, contact The Killing Game on 03300 882851 or visit their website at www.killinggame.co.uk
Special Offers
Find out about our money-saving offers
Wedding Venue
Discover our stunning wedding venue
Special Events
Find out about our latest events