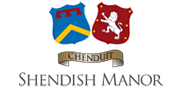 Where Victorian splendour meets modern design
Book a room
Wedding Fayre
Sunday 14th January 2018
11am – 3pm FREE ADMISSION
Are you considering Shendish Manor Hotel for your Special Occasion or Wedding?
Meet with a host of exhibitors at our fantastic event. Representatives from all of the essential service providers will be here to help create your perfect day!
Our team of experienced Wedding and Banqueting Co-ordinators will be on hand to discuss your requirements.
For further information contact the Events team on 01442 232220 or email salescoordinator@shendish-manor.com
Why not relax in our Orangery Restaurant for a Light Lunch or Traditional Afternoon Tea whilst you are here!
Special offers available on the day!
Special Offers
Find out about our money-saving offers
Wedding Venue
Discover our stunning wedding venue
Special Events
Find out about our latest events