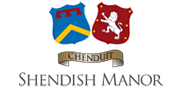 Where Victorian splendour meets modern design
Book a room
Orangery
The delightful Orangery restaurant offers a first class dining experience. Here at Shendish Manor we are passionate about quality – our policy is to use fresh, seasonal ingredients that where possible, have been locally sourced and produced and this is reflected in the mouth-watering, inspirational cuisine expertly prepared by our Executive Chef and his team.
As well as providing a stunning outlook, the glass panelled wall of the Orangery features sliding doors which open out onto the terrace, overlooking the beautifully manicured Dutch Garden and grounds of the estate. The Terrace provides the perfect setting to enjoy al fresco dining under the stars on a warm summer's evening.
The Orangery bar serves a wide selection of wines, beers, Champagnes, cocktails and liqueurs and is the ideal place for an aperitif before dinner or a welcome night cap after your meal.
Breakfast:
07:00 – 09:30 Monday - Friday
08:00 – 10:00 Saturday & Sunday (including Bank Holidays)
Lunch & Afternoon Tea:
12:00 – 16:00 Monday – Friday
13:00 – 16:00 Saturday & Sunday (inc Bank Holidays)
Dinner:
18:30 – 21:30 Monday – Sunday
*The Orangery is also open to non-residents
To book a table please call the Hotel on 01442 232 220.

See sample menus below:
The Orangery Restaurant - Sample Menu
Traditional Afternoon Tea Menu
Vegetarian and Vegan Afternoon Tea Menu

Gluten Free Afternoon Tea Menu
Special Offers
Find out about our money-saving offers
Wedding Venue
Discover our stunning wedding venue
Special Events
Find out about our latest events