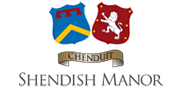 Where Victorian splendour meets modern design
Book a room
Meetings and Events
Shendish Manor does not simply rely on its rich heritage. It has kept pace with the demands of the conference and events organiser in the new Millennium, by offering state-of the-art technology, first class customer service and exacting standards of professionalism.
Superb conference facilities are available with a choice of styles and size of rooms suitable for 2 – 400 delegates. All rooms have an abundance of natural daylight to ensure that your delegates feel both productive and energised.
Two suites (the Dickinson and Longman) can be found in the Victorian Manor House and can accommodate up to 80 delegates. Each has a wealth of original features including high, ornate ceilings, carved oak panelling, chandeliers, and traditional fireplaces. Both of the tasteful rooms also benefit from access to conference telephone facilities. The elegant Manor House has its own entrance, spacious lounge area, bar and access to the picturesque grounds.
The versatile, air conditioned Apsley Suite situated in the east wing is a complete contrast, offering contemporary styling for up to 400 delegates. The suite can be used as one large room or divided into four identical rooms with high tech audio visual equipment built in to each section.
Three small syndicate rooms are also available - each can hold a maximum of 8 delegates.
The beautiful grounds of the estate provides the perfect setting for team building pursuits including archery, pilot cars, quad bikes, wine tasting, mini-Olympics and many other activities.
Our aim at Shendish Manor is to assist you in creating the perfect event. We want to exceed your expectations and help transform an ordinary meeting into an extraordinary event. A variety of set packages are available, however we are delighted to also offer a tailor made service to exactly match your requirements.
Day delegate packages available
Residential delegate packages available
Complimentary parking (including space for coaches)
Complimentary wireless broadband
AV equipment available
Break out meeting rooms available
To book your Conferences & Events, please contact sales on 01442 232220.
Special Offers
Find out about our money-saving offers
Wedding Venue
Discover our stunning wedding venue
Special Events
Find out about our latest events